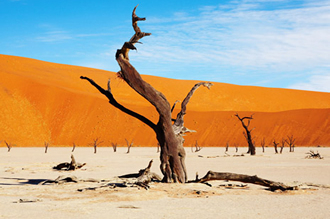 From the 5th to the 9th November 2012, CABRI undertook a Joint Country Case Study (JCCS) on Programme Based Budgeting (PBB) in Namibia. The JCCS is one of CABRI's innovative tools, which provides participating CABRI members an opportunity to investigate and document the experiences, successes and lessons learnt of reforms to a particular aspect of a country's budgeting system.
A team of senior budget officials from Botswana (Ms. Maphorisa & Ms. Keorapetse), Kenya (Mr. Kimemia) and Sierra Leone (Mr. Conteh) along with members from the CABRI Secretariat supported this study. During the week-long exercise, the review team met with representatives from the Ministry of Finance, as well as representatives from line ministries, the office of the prime minister, civil society, parliament and the national planning commission.
The exercise enabled participants to learn more about the implementation strategy and conceptual design of the PBB reform in Namibia. Namibian representatives also shared some of the challenges they face in implementing PBB. The team shared their own experiences with respect to, amongst other things, costing of programmes, establishing a clear harmonised programme structure, revising the State Finance Act, the need for capacity building and consultation in implementing the reform and the links between the organisational and programme structures.
The exercise drew to a close with an out-briefing meeting with the Namibian Permanent Secretary and Deputy Minister of Finance. The team will produce a review report, which can be used by Namibia, and CABRI member countries, as a guiding document to strengthen its reforms. This report will be presented at CABRI's forthcoming annual seminar.
The beginnings of PBB in Namibia
Namibia has experienced an extended programme budgeting reform journey, which began as far back as 1996, with a Cabinet Decision that formed the basis for the move towards PBB. In 1999, the Performance and Effectiveness Management Programme (PEMP) was piloted and implemented which, along with the other reforms such as the introduction of a Medium-Term Expenditure Framework (MTEF) and National Development Plan, aimed to enhance the development impact and efficiency of the National Budget.
Since 2004, Namibia has been implementing a partial system of programme budgeting with the first Medium-Term Plans (MTP) prepared and published in that year as part of the MTEF document. The MTP set-out for each Office, Ministry or Agency the priorities for the three years, objectives programmes and activities, and allocation of funds by programmes and sources of funding.
Another milestone in the journey was achieved in 2005 when the Minister of Finance tabled the MTEF document in Parliament as the official document supporting the Appropriation Bill. While this did not change the basis of appropriation control which to this day remains on the legacy method of main divisions (i.e., administrative unit) and sub-divisions (i.e., input-based line-items), it sent an important message that scrutiny of the budget by Parliament should be informed by outcomes and outputs.
In 2008, a system of Accountability Reports for Ministries underpinned by a selected set of Ministerial Targets was also first published as part of the Budget documentation. So, by 2008, Namibia had completed the developmental steps of its programme budgeting system.
Since 2009, the Ministry of Finance has taken further steps to consolidate the reform. Principally, this involved modifying the expenditure management and accounting system so that each ministry could start to account and report budget expenditures fully on a programme basis. While a new segment was added to the integrated financial management system (IFMS) general ledger in 2012, it is not yet in use by all ministries.
In addition, a "new approach" to programme budgeting was announced in 2012, requiring ministries to make an explicit, indivisible linkage between administrative units and programme activities. While this may eliminate the need for cost allocation and therefore may simplify programme costing, it may reinforce the tendency to design programmes that conform to organisational structures instead of policy-based outcomes.
There have been stop-go aspects to the reform, including incomplete initiatives, such as the PEMP framework, which, in 2011, stopped being published. Despite these disruptions, the basic building blocks are now in place and the reform process so far has vastly improved availability and access to information on government spending as well as macro-fiscal planning. There is willingness in Namibia to push this reform further to reach a point where the full benefits of programme budgeting can be reaped.
CABRI first undertook a JCCS in Mauritius in 2008. To see a copy of this report, please follow the link. CABRI is currently producing a status report on Performance and Programme Based Budgeting in Africa, which will be published in early 2013. This report will be shared with the network and will prove to be a useful source of material in CABRI's future work on PBB, including planned JCCS in 2013 and 2014.