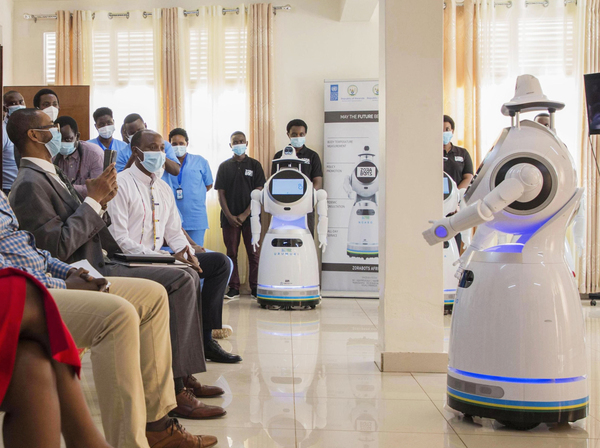 Rwanda was the first country in sub-Saharan Africa to introduce a nationwide lockdown on 22 March 2020, with all public and private sector workers ordered to stay home. At CABRI's 2 July webinar on Information Systems during a Crisis: Balancing Flexibility and Accountability, Mr Placide Mukwende (IFMIS Coordinator at the Ministry of Finance, Rwanda), shared how the Government of Rwanda ensured continuity of treasury operations and provision of regular and emergency services while complying with physical distancing.

Rwanda has been a global leader in using technology to fight COVID-19 – humanoid robots have been used to monitor patient's vital signs, enforce proper mask wearing, and deliver food, water and medicine in and out of wards, while drones have been deployed to deliver pandemic-related information to communities. It is therefore, perhaps, unsurprising that the Ministry of Finance and Economic Planning has also effectively used a digital solution, particularly its integrated financial management information system (IFMIS), to limit disruptions to service delivery and ensure business continuity.
When the pandemic reached Rwanda, the treasury recognised the risk of contagion posed by physically exchanging the papers; payment processes were therefore streamlined and digitalised. Mr Mukwende emphasised that three enabling factors were crucial in facilitating treasury business continuity in Rwanda: (i) internet connectivity; (ii) having an IFMIS that was developed locally, which covers the full PFM cycle and all spending agencies, except for state-owned entities; and, as with any PFM reform or project, (iii) political will.
An impressive 3000 km fibre optic network with 4G LTE runs across Rwanda's 26 000 km2. This, together with mobile penetration of 73%, provides internet connectivity to 95% of the country's 12 million citizens. This has allowed all districts and sectors, which are responsible for service delivery, to be included in the web-based IFMIS, allowing for full digitalisation of payments.
Prior to COVID-19, payments were prepared in the IFMIS and the payment and supporting documents were printed and physically signed and stamped by the Chief Budget Manager and Head of Finance in the relevant institution. The physical documents were then manually taken to the national treasury, which would then verify and approve the payment and supporting documents in the system, before sending to the national bank for payment. The Public Financial Management Act (PFMA) already allowed for full digitalisation of the payment process and so the treasury opted to eliminate the physical exchange of documents by requesting that institutions scan and upload payments and supporting documents into the IFMIS. The implementation of the decision to go fully digital was implemented within two weeks, which Mr Mukwende noted was possible due to the in-house development of Rwanda's IFMIS and availability of local experts able to quickly and appropriately modify the system.
Entities can now prepare payments and upload supporting documents into IFMIS. The head of finance and chief budget manager approve in IFMIS and the approval is sent electronically to treasury for approval and payment at the Bank of Rwanda. This has facilitated rapid processing of invoices and payment, made even more efficient by the IFMIS' full integration with the internet banking of the National Bank of Rwanda, which is in turn integrated with commercial banks. This ensures that service providers are paid promptly, in fact they receive payment within 10 minutes of the payment being processed, and the government does not incur arrears. While this change to the system was implemented in response to COVID-19, it will be maintained, leading to efficiency gains going forward. The Ministry of Finance is also working on eliminating the need to scan documents by introducing a digital signature, which has shown to work well in the e-procurement system.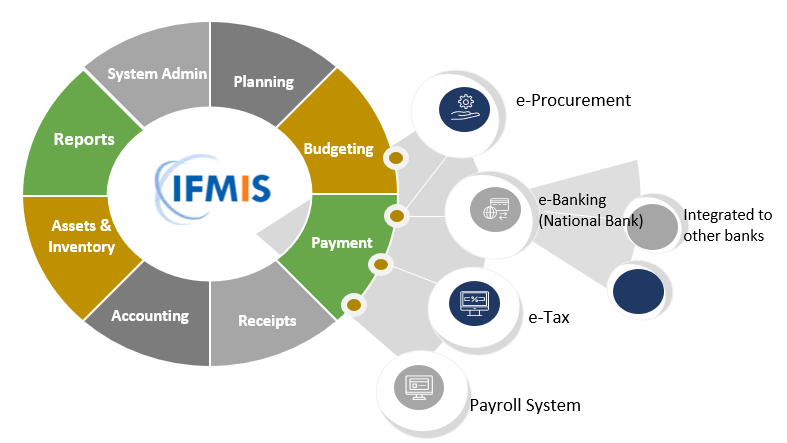 Transparency and accountability, a key concern for many countries bypassing typical procurement processes to deliver emergency services during the pandemic, has been allayed to an extent in Rwanda, given that almost the full PFM cycle is done through the IFMIS. Implementing agencies' plans are prepared online (except for planning consultation with citizens which remains offline). Budget proposals are sent through the IFMIS based on ceilings provided by the Ministry of Finance. Once the budget is enacted by parliament, it is sent through the IFMIS to e-procurement. Once procurement is done, the digitally signed contract is sent to the IFMIS where commitment and cash plan are completed. E-procurement (Umucyo) includes all tenders and suppliers can bid from any country. As revenue services are also web based and integrated with the IFMIS, the procurement agency connects with the tax authority to confirm whether the supplier is legitimate, another accountability check (however for international suppliers, the government must rely on document submitted by the suppliers during e-procurement).
"The IFMIS promotes transparency and accountability by facilitating both system controls and human controls. Everyone can see what is happening as it is all online: suppliers can see how the budget is being spent via e-procurement, and institutions can monitor how Treasury is making payments as they all share the same system". – Mr Placide Mukwende (IFMIS Coordinator: Ministry of Finance and Economic Planning, Rwanda)
Finally, Mr Mukwende reminded us that both throughout design and implementation of the IFMIS and to digitalise processes during the pandemic, political will has been critical. Getting all heads of ministries to supply their credentials for IFMIS to allow for digitalising payments would not have been possible without it. Strong commitment to system resilience also meant that the treasury has disaster recovery measures in place, such as a national data centre based in the cloud and another back-up data centre based in the Ministry of Finance. This ensured that despite facing increased cybersecurity attacks during the lockdown, the Ministry's functioning was not impeded.