Ashveena Gajeelee, Head of Programs at CABRI was a panelist on an Accountability Panel Discussion held as part of the United States Agency for International Development's (USAID) course for its Strengthening PFM/PA course. The panel was held on Wednesday, February 26 at USAID's Pretoria- based training facility.
The Strengthening PFM/PA course introduces USAID staff to essential concepts and components of public financial management (PFM) and public accountability (PA) systems. Participants learn about the core PFM and PA functions and explore tools for assessment, design and implementation of PFM and PA capacity development programs. It helps participants to identify 'best-fit' and contextually appropriate approaches to integrate PFM and PA activities into mission/office portfolio.
The participants included a wide breadth of USAID staff, from Democratic Governance and Economic Growth officers, to experts in USAID's Health and Education offices along with Program Office and Financial Management experts as well.
The panel included Baly Mourad, Regional Director, FSVC and was moderated by Thomas Solomon, Public Financial Management Advisor, USAID. The panel focused around both the challenges, importance of building accountability ecosystems and the role of government. The role of development partners and the civil society was particularly explored as well as the adversarial relationship between the actors.
Ashveena Gajeelee gave an overview of CABRI's work with African Ministries of Finance in implementing budget reforms, the importance of peer-to-peer exchange among countries with similar economic context; and CABRI's unique approach in problem solving driven by local context.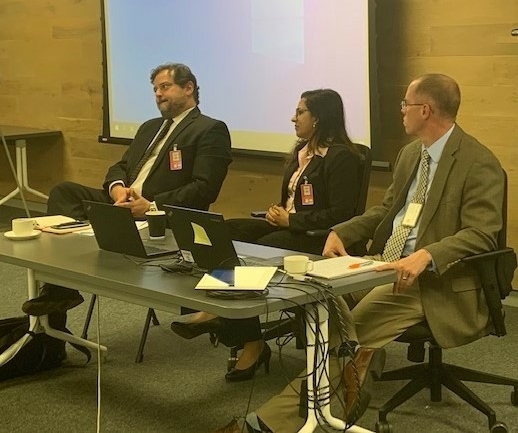 Discussions with participants focused on:
Ways to strengthen collaboration between government and non-state actors in enhancing transparency and accountability for the use of public resources, the role of civil society and the institutional set up and innovative approach that has worked in African;
The importance of strengthening public accountability programs and the various approaches which can improve transparency and trust; what are the measures that can be undertaken to improve trust between government and civil society;
The use of technology to enable easier sharing of information between government and civil society, examples of successful applications of technology in governments, the pre-requisite to successful use of data and technology.