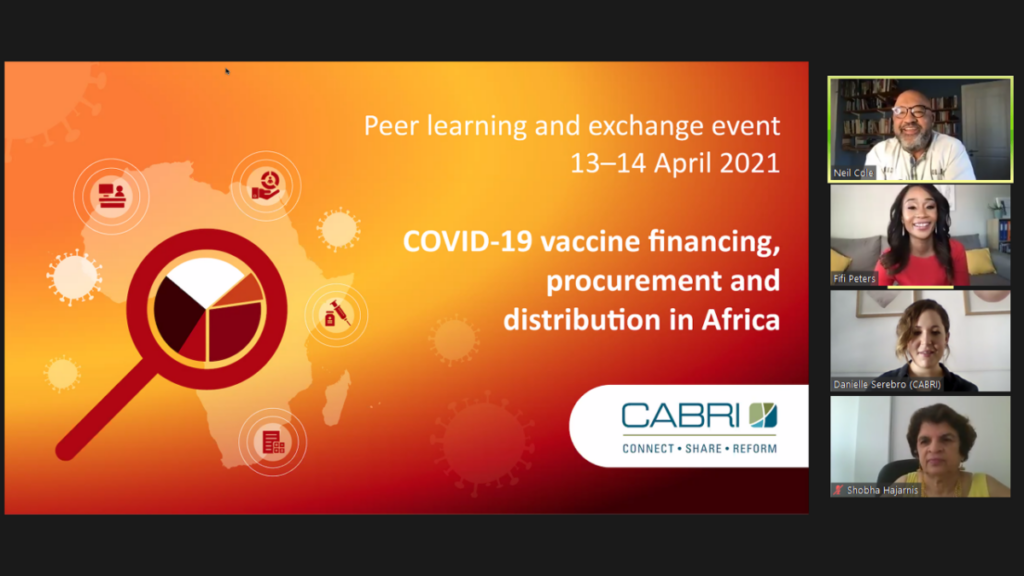 While much of the developed world is reaching population immunity against COVID-19, only a handful of African countries have vaccinated more than 1 percent of their populations. This is of greater concern than ever as Africa's third wave looks set to be worse than either of the previous waves (COVID-19 cases are currently doubling every three weeks, compared to every four weeks at the start of the second wave).
Recognising the importance of vaccination against COVID-19 to mitigate against loss of lives and economic disruption, in April 2021, CABRI brought together officials from ministries of finance and health from 16 African ministries to (i) critically reflect on the current state of their COVID-19 vaccine programmes and the effectiveness of collaboration between the ministry of finance and health and (ii) learn from peer countries how they are approaching similar challenges, including how they have costed their vaccine programmes, incorporated them into their budgets, are viewing different financing options, and deciding on and approaching vaccine procurement and roll out.
The virtual event kicked off with a panel discussion between Dr Philipp Krause of the CABRI Secretariat, Ahmed Kouchouk (Vice Minister of Finance for Fiscal Policies & Institutional Reform, Ministry of Finance, Egypt) and Gyude Moore (Senior Policy Fellow: Centre for Global Development). The esteemed panellists discussed trends observed in budgeting for the vaccine and the importance of convincing policymakers that budgeting for the COVID-19 vaccine is a necessity even if it may crowd out other priority expenditure. It was noted that domestic resources are crucial for closing the financing gap for COVID-19 vaccination programmes in African countries. Allocating these through budget documents will ensure that countries signal commitment to development partners and catalyse external support. Vice Minister Kouchouk emphasised that in financing and procuring the vaccine in Africa, a common approach and language needs to be adopted, and in the language of the "lowest common denominator", while Mr Moore reiterated that without significant external and domestic resources allocated to the vaccine in the developing world, we risk COVID-19 becoming yet another "poor-country disease".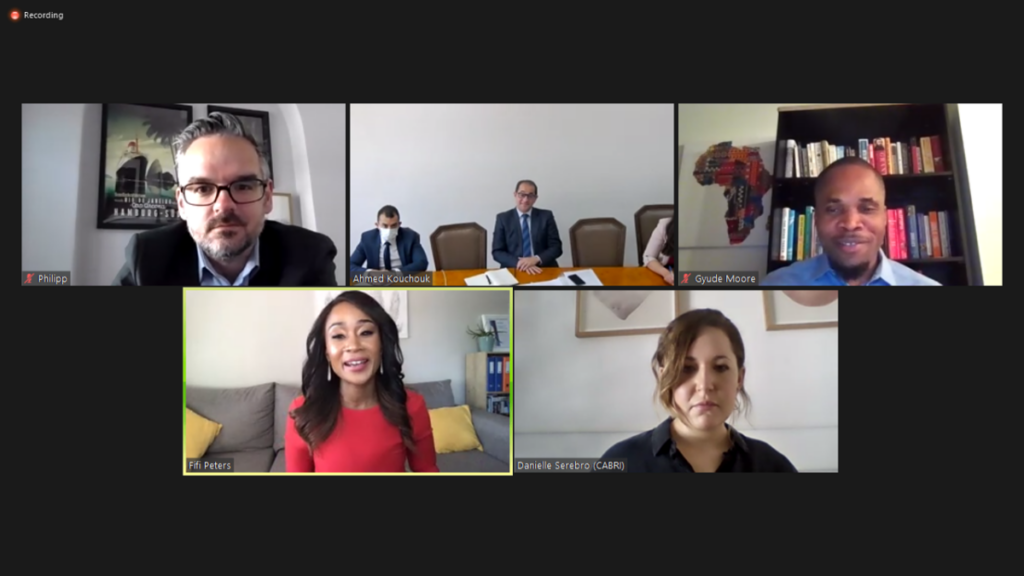 The rest of the programme focused on the technical aspects of costing, budgeting, financing, procuring and distributing COVID-19 vaccination programmes.

On the first day of the event, Dr Raymond Hutubessy (Senior Economist: Immunization, Vaccines and Biologicals Department, World Health Organization) provided insight into the WHO's COVID-19 vaccine costing in Africa and the introduction and deployment costing tool, Dr Shobha Hajarnis (Consultant, Principal Secretary's Secretariat, Ministry of Health, Seychelles) shared how The Seychelles has costed its vaccine programme and Dr Alex Amankwah-Poku (Head, Budget Development and Reforms, Budget Division, Ministry of Finance of Ghana) shared how the Ministry of Finance has budgeted for the vaccine and adjusted PFM processes to ensure efficiency in vaccine procurement and financing and accountability. It was apparent that costing and budgeting during a global pandemic is very far from business-as-usual, and it is crucial that countries keep sharing how they are approaching this challenge as they go along.
Danielle Serebro of the CABRI Secretariat shared some of the financing options that countries have at their disposal including vaccine bonds, health taxes, debt swaps or debt relief, and budget reprioritisations. Dr Mark Blecher (Chief Director: Health and Social Development, South African National Treasury) and Parmanand Mawah (Acting Permanent Secretary: Ministry of Health and Wellness, Mauritius) shared the different financing options they have considered and the implications of each, both in the short and medium term.
As important as how governments have budgeted for and raised financing for the COVID-19 vaccine is how they can most efficiently and effectively procure vaccines and ensure value for money is attained. On the second day of the event, we heard about how governments are procuring the vaccine either through direct or pooled procurement and how concerns around efficiency and accountability in procurement have been approached. During this session we heard about one of the key pooled procurement continents in Africa, the African Union's African Vaccine Acquisition Task Team and African Medical Supplies Platform from Chidinma Ifepe (Head of Operations: African Medical Supplies Platform) and from Dr Diop Samba (Head of Regulatory and Legal Affairs at Regulatory Authority on Public Procurement of Senegal) on balancing efficiency and accountability in emergency procurement. During the session it was apparent that while pooled procurement mechanisms are essential, harmonisation and coordination is also required in financing, regulation and distribution. And that pooled procurement mechanisms will not be sufficient necessitating that countries increase direct procurement; however, supply constraints have necessitated that countries procure from multiple manufacturers potentially creating administrative, logistical and financial challenges that may be mitigated by cross-country collaboration.
Finally, we looked at how countries can cost and budget for the roll-out, utilise the private sector and NPOs, and ensure funds flow efficiently to service-delivery centres Dr Hélène Barroy (Senior Public Finance Expert: Department of Health Systems Governance and Financing, World Health Organization) shared findings of scoping review on PFM & vaccine roll out done by the World Bank and WHO and Dr Bakunawa Garba Bello (Senior Medical Officer in Disease Control and Immunization Department of the National Primary Healthcare Development Agency (NPHCDA)) shared how Nigeria has planned for the COVID-19 vaccination programme roll out. This session was a reminder that financing for vaccine roll outs, particularly "last-mile" distribution, has traditionally been neglected by both development partners and policy makers and it is critical that this mistake is not made for the COVID-19 vaccine.
While this event provided valuable insight into where countries where in the second quarter of the second year of the pandemic, we still do not have enough information on how countries are financing, budgeting and procuring the COVID-19 vaccine; without this, opportunities for meaningful peer-exchange and learning and cross-continental unity are limited. The uncertainties associated with COVID-19 vaccination programmes require unusual degrees of budgetary flexibility, which must be accompanied by even greater levels of transparency and accountability. For both intra- and inter-country learning, we will continue to document how countries are approaching financing, procurement and distribution of the COVID-19 vaccine through our COVID-19 Public Finance Response Monitor. We will also again bring together ministries of finance and health to share challenges and lessons learnt; our next virtual peer-learning and exchange on this topic will take place towards the end of July 2021.