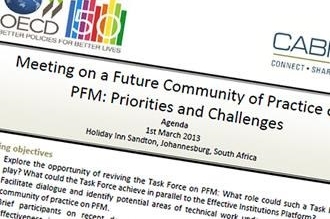 CABRI invited former members of the Task Force on Public Financial Management to meet and discuss how to take forward the PFM commitments taken under the Global Partnership on Effective Development Co-operation, on 1 March 2013 in Johannesburg, South Africa.
As a very active member of the Task Force on PFM before Busan, CABRI along with many of its member countries is keen to revive this platform to ensure knowledge sharing and peer support in reaching the Busan commitments relating to PFM. Together with the OECD-DAC, we would like to invite you to meet in Johannesburg on 1 March to discuss areas of potential collaboration.
In particular, taking into account the Manila Consensus on PFM and the Busan Partnership Agreement, as well as the consultations that have taken place on the future of the Task Force on PFM, the meeting aimed towards restarting the conversation globally.