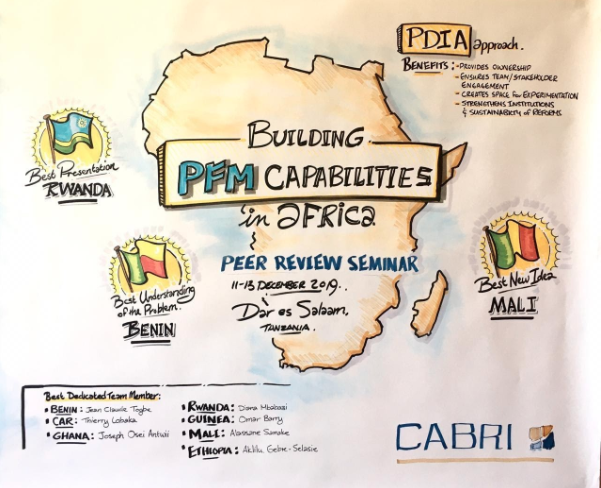 On the 11-13th of December, teams from Benin, Central African Republic, Ethiopia, Ghana, Guinea, Mali and Rwanda convened in Dar Es Salaam, Tanzania for a Peer Review Seminar (PRS). The event was an opportunity for the seven teams to share the progress achieved in the Building PFM Capabilities programme. During the 8-month programme, teams went through an iterative and adaptive learning process to diagnose complex public finance problems in their home-country and experiment and implement solutions to address the causes identified. The PRS provided a platform for teams to share their progress, review the work of peers and determine actions that could lead to faster progress in the upcoming months. During the event, prizes were awarded to teams from:
Rwanda: received an award for "Best presentation" for having very clearly articulated their journey in solving the problem they identified as "Low citizen participation in planning and budgeting leads to limited accountability for results". The team initiated new tools to foster better budgetary consultation with citizens such as a district-level citizen's guide and is enhancing budget literacy in learning institutions through University lectures.
Mali: received an award for the most innovative idea for the solutions they experimented in solving the problem of "Taxpayers do not meet their tax obligations". Specifically, the team developed a communication strategy, which included the production of a video by a Malian hip-hop star, to promote the important of tax compliance to deliver on social objectives in the country.
Benin received an award for "best understanding" of the problem related to unsustainable and inefficient local government spending compared to local revenue. The team undertook extensive consultations with stakeholder in central and local governments was able to improve the regulatory framework for municipalities with the adoption of new texts aimed at improving mobilisation of local resources. The teams also enhanced coordination and strengthened agreements between central government support services and local municipalities to improve capacity in mobilising local resources more effectively.
Below is a graphic illustration of the teams' progress.