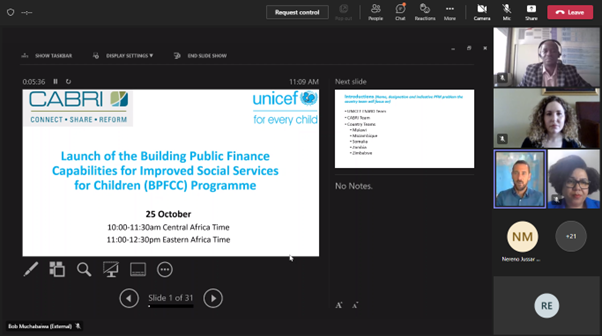 On October 25, CABRI in partnership with the United Nations Children's Fund (UNICEF) virtually launched the Building Public Finance Capabilities for Improved Social Services for Children (BPFCC) Programme. Five country-teams from Malawi, Mozambique, Somalia, Zambia, and Zimbabwe will join the 12-month programme which aims to put teams of government practitioners at the forefront of reform efforts to solve complex public finance problems while improving social services.
Elaborating on the background and objectives of the BPFCC programme, Matthew Cummins, Social Policy Regional Advisor UNICEF ESARO, highlighted the following six trends and challenges that inform the BPFCC programme.
Insufficient, inequitable, inefficiency, and ineffective social spending in some cases;
Public Financial Management (PFM) problems are becoming more complex and are overlapping;
Ever changing political economy dynamics compounded by shocks;
PFM diagnostics are unaccompanied by reforms;
Consultancy led solutions are often more expensive and unsustainable and
PFM reforms take time or are often aborted.
The BPFCC programme, CABRI's second partnership with UNICEF after the ongoing programme on programme-based budgeting with UNICEF Algeria, will provide training using the Problem-Driven Iterative Adaptation (PDIA) approach to help determine: (1) local solutions to local problems; (2) how local teams of government officials are best placed to carry out reforms; (3) how to push positive deviance; (4) how to scale through diffusion; and (5) how to try, learn, iterate, and adapt. "It is evidenced that these trainings – using the PDIA approach, has allowed participants in the programme to determine what critical PFM issues impact their National Development Goals and find solutions through a well-defined, tangible and measurable problems solving tool that incentivises agents to take risks, question the status quo, create dialogue, and provide the basis to search for alternatives," affirmed Soonsyra Lowe Nicolas, Acting Executive Secretary of CABRI in her opening remarks.
Danielle Serebro, Programme Manager at CABRI explained that when observing 'form' vs. 'function', "focus has been on modernising systems and introducing new best-practice policies rather than improving functional outcomes." Various international bodies and governments have provided support for reform in Africa, reform ownership, hence, the PDIA approach.
The programme will therefore focus on tackling public finance problems in key social sectors that particularly affect children, such as education, nutrition, health, and social protection. As such, the country-teams will comprise of a mix of public finance officials from both the Ministry of finance, sector ministries and/or local government agencies of relevance to the problem identified. Potential public finance may range from planning and budgeting to execution whilst careful consideration will be taken to ongoing reform initiatives in the respective countries.