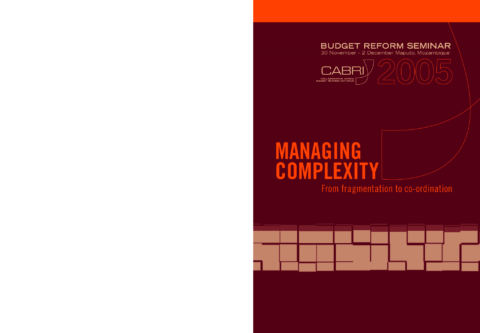 en
Download (1.4 MB)
Contents
1. Introduction
2. Co-ordination at the centre
3. Aggregation and disaggregation: comprehensiveness, budget frameworks and classification
4. Managing aid flows
5. Decentralising public functions to public entities
6. Policy, budgeting and oversight: the role of the legislature
7. Angola: a contribution to the debate

This volume, the second in the set of CABRI post-seminar publications, presents the themes and country studies that formed the basis of the discussions at the seminar. It covers critical issues of modern public finance management in developing countries, such as managing public agencies and aid flows, the role of the legislature and reforming classification systems.
Year: 2005 Theme: CABRI Conference, CABRI 2nd Annual Seminar Countries: Tanzania, Malawi, Ethiopia, Kenya, Uganda, Angola, South Africa Language: English