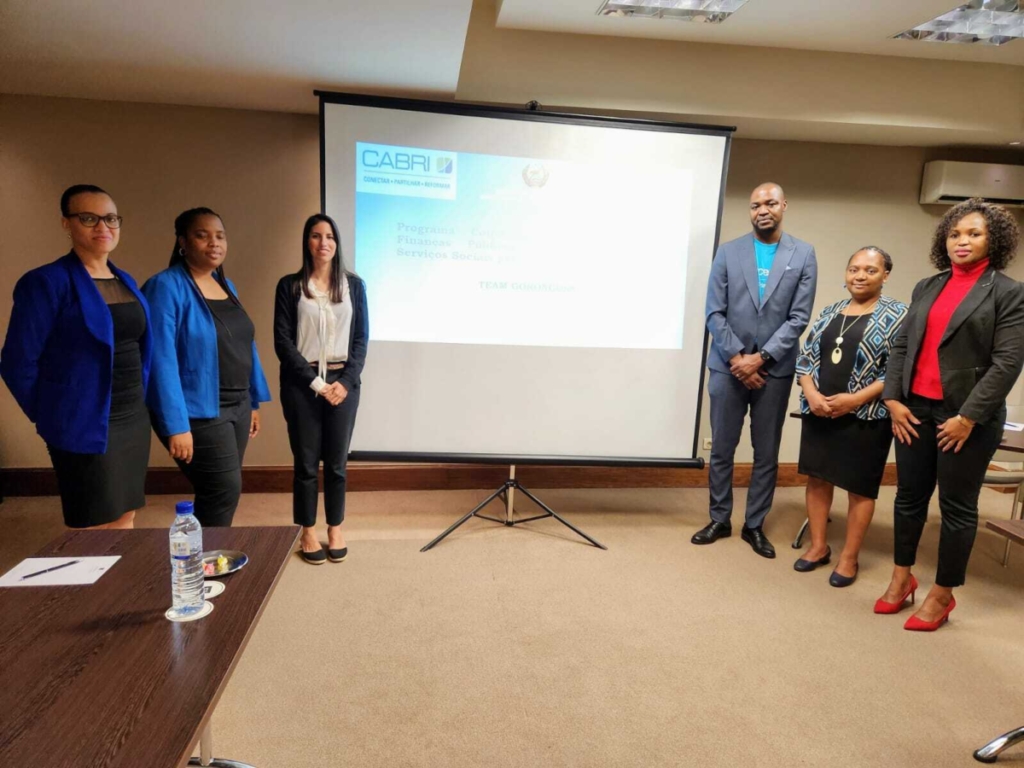 From the 21st to the 22nd of August 2023, I travelled to Maputo to visit the team participating in the Building Public Finance Capabilities for improved social services for Children (BPFCC) programme, a joint initiative together with UNICEF. The purpose of the visit was to take stock of the team's work in their effort to solve the problem of "the fragility in the implementation of transversal sectoral programmes", which is particularly relevant for the delivery of social services for children. This problem falls within the scope of Mozambique's ongoing Planning and Budgeting Subsystem reform, which will in part promote the rollout of a Programme Based Budgeting (PBB) approach.
Over the past two decades, nearly all countries in Africa have started introducing some form of PBB. PPB aims to strengthen the linkages between policies, spending plans and delivery of public services. It shifts the focus of budgetary processes from control of inputs to producing measurable results. Whilst the idea seems simple, PBB involves a restructuring of the functions within government institutions, a shift in the work culture geared towards accountability and performance management together with the systematic building of local capabilities.
In many African countries the impact of PBB has more often been observed during the preparation of the budget but has been more limited with respect to strengthening performance management, improving budget allocative decisions, or enhancing accountability. During the in-country mission, CABRI was able to share a few experiences from the introduction of PBB in other African countries and some lessons regarding success factors in the effective rollout of PBB reforms.
Achieving functional PBB is a long-term and continuous process. It goes way beyond just changing the presentational format of budget documentation. Many countries that first introduced PBB in the early 2000's, only fully rolled out PBB more than a decade later and are in a perpetual state of adaption and iteration. Within this timeframe, countries often follow three distinct (sometimes overlapping) stages.
| 1st stage: Presentational | 2nd stage: Execution/management | 3rd stage: Performance link |
| --- | --- | --- |
| - The budget is reorganized around programmes, with clear mandates and objectives. These programmes are further broken down into subprogrammes, outputs, activities and inputs. | - There is effective management in programme mode, which implies: | - Performance information is effectively used to inform allocative decisions. |
| - The budget is presented to the National Assembly (initially it may be presented as an annex to the "traditional" budget). | - Programme managers are identified and have clear mandates and defined responsibilities associated with this new role. | |
| - The National Assembly approves budget spending by programmes. | - Increased flexibility in expenditure controls at a programme level. | |
| | - Classification/accounting systems allow for tracking expenditure and adequate reporting at a programme level. | |
| | - Tracking and reporting of performance, including outputs and the realisation of objectives. | |
| | - Etc. | |
Many countries in Africa have had difficulty moving past the first phase of presentational PBB, in part because they have underestimated the far-reaching implications of this reform. For instance, PBB requires considerable budget management capacity in spending ministries, who become increasingly responsible for budget management and therefore need to be able to track and control spending. A key issue is that, in many African countries, these functions have traditionally been performed by a powerful central Ministry of Finance, which has been reluctant to relinquish control (CABRI, 2014). The result is that in many places, ironically, the rollout of PBB has seen the proliferation of spending controls, which made budgeting more complex and more difficult to manage (World Bank, 2022).

Over and above this, PBB requires certain preconditions for success, such as the introduction of new public finance laws, a credible medium-term expenditure framework, the effective integration of capital and recurrent spending, amongst others. In its warning to countries, Schick (1998) recommends that countries must be able to control inputs before they are called upon to control outputs; they must be able to account for cash before they are asked to account for cost; they must abide by uniform rules before they are authorised to make their own rules'. Since PBB is a complex and pervasive reform, politicians and officials must concentrate on the basics of PFM first.
PBB will inherit and exacerbate existing "bread-and-butter" PFM issues. In this regard, it will be critical for the government of Mozambique to properly access PFM systems' readiness and tackle existing weaknesses before pushing for the full rollout of PBB. Mindful of this, the Mozambique BPFCC team is committed to further unpack the key causes leading to the fragility in the implementation of cross-cutting government programmes, which will not solely be addressed with the introduction of PBB. For instance, the problems in implementing transversal programmes will certainly inherit the long-festering basic problems within the public investment management cycle (i.e. prioritisation and needs assessment, appraisal process, reporting, monitoring and evaluation of capital projects). Understanding what is working and what isn't within this cycle, and addressing existing gaps, will ensure that the government of Mozambique strengthens the capabilities and systems that will ultimately deliver better services for children as well as support the foundations of PBB.
For more information on CABRI's work in PBB, click here.