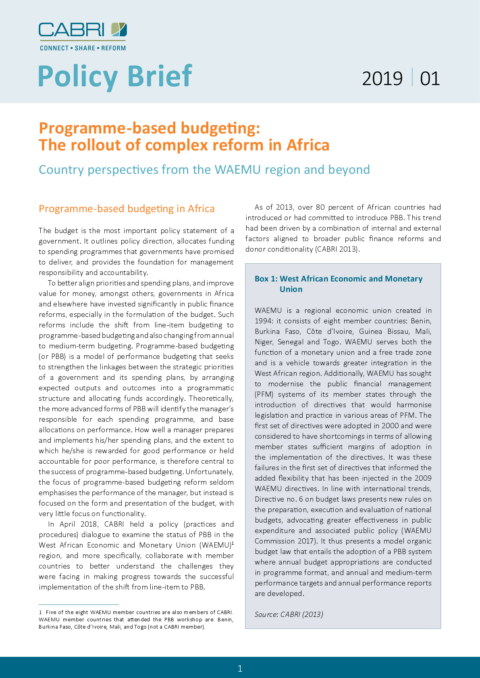 en
Download (319.2 KB)
To better align priorities and spending plans, and improve value for money, amongst others, governments in Africa and elsewhere have invested significantly in public finance reforms, especially in the formulation of the budget. Such reforms include the shift from line-item budgeting to programme-based budgeting and also changing from annual to medium-term budgeting. Programme-based budgeting (or PBB) is a model of performance budgeting that seeks to strengthen the linkages between the strategic priorities of a government and its spending plans, by arranging expected outputs and outcomes into a programmatic structure and allocating funds accordingly.

In April 2018, CABRI held a policy (practices and procedures) dialogue to examine the status of PBB in the West African Economic and Monetary Union (WAEMU) region, and more specifically, collaborate with member countries to better understand the challenges they were facing in making progress towards the successful implementation of the shift from line-item to PBB.
This paper draws on the insights from the Abidjan workshop, research and joint country case studies undertaken by CABRI, and other literature.
Year: 2019 Theme: Building Public Finance Capabilities, PFM reforms Language: English